Learn more about smile restoration options!
Dental Implants in Turlock, CA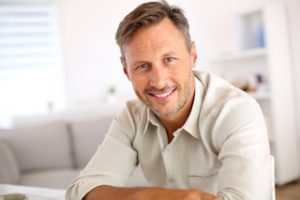 Dental Implants Turlock CAMissing one or more of your teeth makes every aspect of your life more challenging. Eating the foods you normally enjoy becomes difficult and talking normally may be embarrassing – not to mention the blow it can cause to your confidence. And let's not forget what this does to our digestion of food! We will discuss this more in another section.
Besides all these factors, did you know that losing a tooth also impacts your oral health?
Why Is It Important to Replace a Missing Tooth?
When one or more of your teeth are missing, your remaining teeth are at risk of shifting into the open space. Over time, your teeth will gradually move, putting you at a greater risk for bite misalignment, fractures, and periodontal disease. A misaligned bite can contribute to a painful joint disorder known as TMJ or TMD, which causes joint pain, neck pain, and headaches.
Your missing root also affects the health of your jawbone beneath your gum line. When your root is missing, your bone gradually loses density over time. Without proper bone support, your remaining teeth could develop periodontal disease and eventually become loose. Losing bone can also change the appearance of your face, giving you a sunken or sagging look and making you appear older than you are.
What Is a Dental Implant?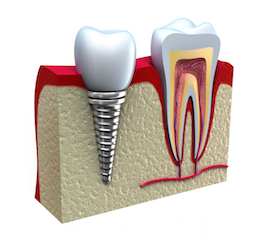 Dental Implants | Turlock DentistModern dentistry has made great advances in the field of dental implants, and the good news is that implants have become the number one option for tooth replacement. They are natural looking, durable, and predictable.
The secret behind the success of dental implants lies in the fact that they replace both your missing root and tooth, protecting the health and integrity of your jawbone and providing the function of a natural tooth.
Your new root is made of titanium or zirconium, both of which are biocompatible and integrate naturally with your bone. The root is surgically placed in your bone and allowed to heal and mature for a period of time. After the healing period, a restoration that is custom designed to match your existing teeth is attached to your new root. After your dental implant is complete, no one will ever know that you were missing a tooth. Yes, we are talking about cosmetic dentistry again!
Am I a Candidate for Dental Implants?
Dr. Ratto is happy to consult with you and evaluate your situation through examination and x-rays to determine if dental implants might be the right option. If implants are the answer, Dr. Ratto will work closely with his highly experienced team of surgeons, periodontists, and ceramicists throughout your placement and healing process, then you'll return to Progressive Health Dental to have your permanent crown placed and your smile fully restored.
We understand the ramifications of lost teeth, and we're prepared to guide you through the entire implant process from start to finish and beyond. The result will be something that you'll be proud to smile about! Contact our office today to learn more about implant dentistry and how we can help restore your smile.